Study Abroad: Environmental Management & Sustainable Development in Taiwan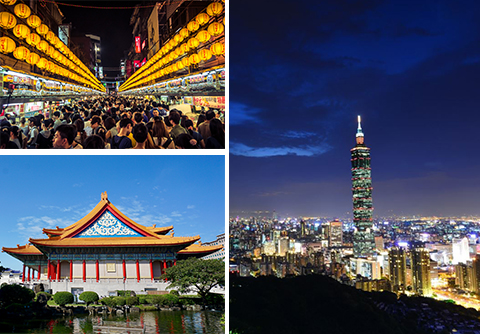 Sponsored by Cal Poly International Center in 2017, Dr. Yiwen Chiu established a new study abroad program in Taiwan aiming to address environmental challenges for increasing sustainability awareness. This new Program will take the very first cohort of students to Taiwan in next summer (2018). International Center will host two info sessions on Oct. 24th and Nov. 14th, 2017, 11:10 - noon, at Bldg. 180 (Baker Science), Rm. 107 to provide additional information and take questions from students. <click to download event flyer>
Facts about Taiwan
Area size 12 times smaller than California, about 4 times bigger than SLO county
World's 20th largest economies and 15th-most competitive economy
One of the most densely populated countries in the world
Species richness per area size is 60 times higher than world average
One of the world's largest cities in metropolitan population (Taipei)
Home to 14 recognized aboriginal tribes
Lowest fertility rate in the world
One of the most liberal country in Asia, and the safest country for travelers, female and solo travelers in particular
159 universities on this tiny island, 31 of which are located in Taipei!!
A "too-good-to-be-true" national healthcare system gained international attention and widely studied
Beauty of Taiwan
Taiwan, with an area size of 13,974 mi² or 12 times smaller than California, is the fifth largest economy in Asia and 18th in the world by gross domestic product in 2013. It is also home to one of the world's largest cities, Taipei, with an estimated metropolitan population of 2.7 million in 2016. With its dramatic topography, more than 252 endemic species have been recorded supported by various climate features ranging from tropic to frigid zones. The per-area endemic species is 32 times higher than that is recorded in the United States. These unique socioeconomic and environmental characteristics make Taiwan a great living classroom to explore scientific subjects related to environmental sciences and sustainability.
However, like many other developed countries, Taiwan has experienced significant challenges to deploy its national environmental and sustainable strategies in the past two decades due to the rapid urban sprawling, fast-growing energy consumption, and highly diversified landscape and ecosystems. Therefore, Cal Poly students participating in this program will have the opportunity to experience, observe, and discuss relevant knowledge, practice, political instrument, and alternative solutions associated with sustainability and environmental mitigation.
General Setting
This will be a six-week summer program taking place in Taipei and Nantou, Taiwan, for two and four weeks, respectively. Finishing the program, students will earn 8 credit units:
NR323 Human Dimensions in Natural Resources Management (meet GE D5 requirement)
NR360 Ethnicity and the Land (meet GE C4 and USCP requirement)
Students will have an opportunity to learn about contemporary environmental challenges ranging from community to global levels. The course will be housed in two collaborative institutes, National Taipei University of Technology (NTUT, Taipei. NTUT Map) and National Chi-Nan University (NCNU, Nantou. NCNU Map), with additional field trips to explore environmental and social characteristics challenging sustainable development. By attending this program, Cal Poly students will have an opportunity to intensively interact with bilingual Taiwanese students (peer advisors and student volunteers) through group activities during their stay in Taiwan.
Why Sustainability in Taiwan?
Cal Poly Global Programs currently has limited capacity fostering the learning and teaching in the realm of sustainable development and environmental management. As Cal Poly has strived to promote sustainability in practice, there is an urgent need to offer a new learning opportunity addressing sustainability challenges from the aspect of environmental management. Moreover, there is a limited number of global programs related to the core curricula of CAFES, minimizing the study-abroad opportunities for the second largest college in Cal Poly. Therefore, the Taiwan Program will significantly increase not only the diversity of CPGP programs, but also learning opportunity for Cal Poly students who are interested in sustainability, environmental protection, or Chinese culture in general.
There are currently four Taiwan programs in CPGP database, which are only available through CIEE and CSU IP network. The new Cal Poly program will take advantage of Taiwan's natural and ecological environment allowing Cal Poly students to discover sustainability challenges and proposed management approaches by applying skills learned in classes. Moreover, NR360 and NR323 have been taught to emphasize the discussion on various study cases related to land-use conflicts and the cultural issues associated with them. Thus, they are lecture-intensive courses with "in-class" activities to "read" study cases on paper. Instead of using the "learn-by-reading" approach, the Taiwan Program will incorporate field trips to aid the in-class lectures allowing students to gain a holistic view on land-use conflict and relevant challenges associated with a region's historical, racial, and cultural figures. The Taiwan Program will take place at two distinctive locations: Taipei, one of the most populated international cities in the world, and Nantou which is famous for its rural characteristics and tribal culture. This special arrangement can facilitate a rich learning experience by exploring diverse cultural variance, social characteristics, sustainable challenges, which cannot be achieved by an in-class learning environment.
New learning approach: facilitating field observation, community engagement, multidisciplinary and cross-culture brain-storming processes
New teaching approach: integrating systems thinking to comprehensively take social, cultural, political, ecological, and environmental aspects into consideration
Program Venue
During the first two weeks in Taipei, all lectures will be housed at NTUT at Taipei (northern Taiwan). Cal Poly students will stay in nearby university-owned hotel or similar housing complex, which are approximately 10 to 15 mins away from NTUT by public transit. Learning topics during this period of time will cover watershed management, urban sprawling, land use planning, climate change policies, and environmental impact mitigation. 
From week three to six, students will stay in Nantou (central Taiwan). NCNU will facilitate the teaching and student housing demand, in addition to support transportation for excursions. Learning topics during this period of time will focus on natural resources conservation, public engagement, sustainable agriculture, environmental economics, and ecological services. 
National Taipei University of Technology
Founded in 1912, NTUT is one of the oldest technology-oriented univserties in Taiwan best known for its engineering programs and long history collaborating with industriral sectors. It was ranked as the top-1 technical university in teaching excellence based on the latest evaluation in 2015 conducted by Taiwan Ministry of Education. NTUT was also ranked as the best Green University in Taiwan and the 6th in world in the category of city-centered campus in the UI Green Metrics University Rankings. The campus is conveniently situated in the center of Taipei city allowing students to access various public resources and travel destinations easily. With its strong performance in applied sciences, NTUT students are frequently crowned in vairous international events, including Red Dot, and World Skills Competition. For more information on NTUT, please click here.
National Chi-Nan University
Found in 1995, NCNU is one of the youngest national universities in Taiwan best known for its libral art and business schools. Despite the short history, it has developed a vibrant research and learning environment to (a) emphasize the integration of human-technology dimensions, (b) promote international collaboration, and (c) deploy innovated practices for sustaining ecological services and natural resources. With its profound achievement, NCNU was the recipient of Taiwan's National Award of Academic Excellence in 2005. NCNU is situated at Puli, Nantou, a rural town at central Taiwan surrounded by friendly communities and scenic view. This setting makes NCNU a very safe and convenient campus allowing Cal Poly students to participate in various learning activities.
Teaching Approach
Each teaching section (at Taipei and Nantou) will include in-class lectures, group-based project activities, and field trips. Lectures will aim to cover the discussion on fundamental concepts, whereas group activities and field trips will allow students to carry out projects and compile relevant information. Field trip destinations will include national/regional parks, experimental forests, and historical districts demonstrating the implementation of sustainable practices. Students will be organized in groups of three or four to conduct group projects which aim to assess selected topics related to sustainability and provide solutions. We tailor all the field trips not only to give students a great overview of Taiwan's environmental and social characteristics, but also to facilitate a collaborative learning experience weaving field observation, public dialog, and theoretical principles. 
Students will have free time on weekends to explore additional destinations with the help from Taiwanese students (peer advisors). Students can also take advantage from the free time to collect additional field materials for supporting their future courses back at Cal Poly, such as senior projects or any relevant courses.
Tentative Course Schedule
* Subject to change, depending on certain unexpected constraints/circumstances such as natural hazard/weather (typhoon) or change of facility status.
Date

Activity & Topics

Location

July 1

Depart U.S. for Taipei

SFO Airport

July 2

Arrival and check-in

NTUT

July 3

Cultural Orientation – Meet peer advisors and student volunteers

NTUT

July 4

Classes – City planning and micro ecosystem

NTU (take public transit)

July 5-6

Classes – Population, land use planning, urban sprawling, heat island

NTUT

July 7-8

Weekend (free days)

 

July 9

Field trip – Water resources, watershed management, BMPs, and land use conflicts

Feitsui Reservoir

Municipal Wastewater Plants

July 10

Field trip – Volcanic landscape, and endangered species protection

Yangmingshan National Park

July 11

Field trip – Mangrove and estuary ecosystems, migration waterfowl and eco-friendly agriculture

Guandu Nature Park

July 12-13

Classes – System ecology, theories of disturbance and biodiversity, consumption and industrial ecology

NTUT

July 14-15

Weekend (free days)

 

July 16-18

Depart Taipei for Nantou

Field trip – Climate change policy and mitigation plans

Field trip – Climate and ecosystems (boreal, temperate, deciduous, and coniferous forests), trail system and environmental education

Check-in NCNU in the evening

Industrial Technology Research Institute, ITRI

Dasyueshan Forest Recreation Area

NCNU

July 19

Orientation, meet peer advisors and student volunteers

Group project discussion

NCNU

July 20

Classes – Ecological engineering

NCNU

July 21-22

Weekend (free days)

 

July 23-26

Classes – Sustainable community, public engagement, and socio-economic drivers in sustainable development

NCNU

July 27

Field trip – Limnology, eco-community, and sustainable agriculture

Sun Moon Lake

July 28-29

Field trip – Tea plantation (environmental implications of high-value commodities). Forest resources, forestry education, timber industry, recreational management, and environmental monitoring.

Xitou Nature Education Forest

July 30-31

Class – Agricultural and social revolution: "Satoyama"

NCNU

Aug 1-3

Class – Regional development and urban-rural divide

NCNU

Aug 4-5

Weekend (free days)

 

Aug 6-8

Class – Restoration ecology

NCNU

Aug 9

Study day

NCNU

Aug 10

Final exam (morning), group project presentation (afternoon) and written report due

Farewell party: banquet dinner

NCNU

Aug 11

Transfer to Taipei, depart for U.S. in the evening

Taoyuan Int'l Airport
Proposed Excursions
To take advantage of Taiwan's city setting, some in-class activities can also take place at outdoor. For example, if the weather permits, the instructor and peer advisors will take students to hop on a bus to visit some other universities or local communities that are only minutes away from classroom. Additioanlly, we want to tailor a travel plan not only to accommodate our learning interests, but also to appreciate what Taiwan has to offer, given our time constraint.  
* Subject to change, depending on certain unexpected constraints/circumstances such as natural hazard/weather (typhoon) or change of facility status.
Feitsui Reservoir
Day trip
During the first two weeks in Taipei, students will visit Feitsui Reservoir to learn about watershed management and water resources sustainability. Feitsui Reservoir is the primary water supply source nurturing Taipei district. It has experienced great challenges from agriculture and urban development resulting in water quality degradation in the past three decades. However, by implementing multiple approaches to promote environmental awareness and management efficiency, Feitusui is now one of the most successful examples demonstrating community engagement and scientific collaboration.
Yangmingshan National Park
day trip
The second fieldtrip in Taipei will take students to visit Yangmingshan National Park (YNP). YNP features a scenic vista elevated over 2600 feet, above the entire Taipei Basin. This stop point will allow students to grasp a big picture revealing many environmental challenges that have resulted from over population including the geographical and socioeconomic driving forces leading to the "urban heat island." YNP is also one of the rare volcanic landscapes and ecosystems in Taiwan, attracting nearly 4.5 million tourists every year. This increased tourism has dramatically increased environmental stresses, which have led to the establishment of various environmental education and wildlife management programs at YNP.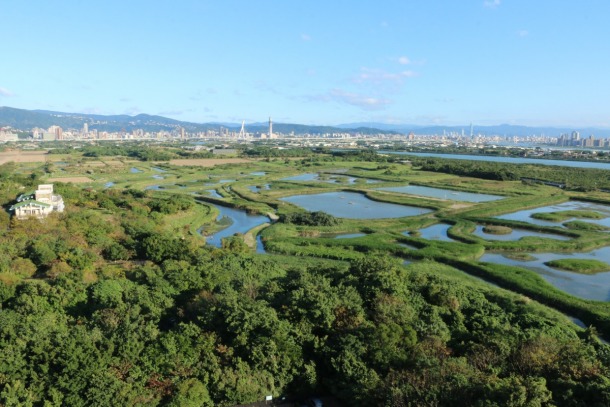 Guandu Nature Park
day trip
The estuary park is 40 minutes away from NTUT and a well-known major stopover site for migration waterfowl and shorebirds with global ecological significance. Guandu is also a protected habitat for Kandelia obovate, a rare tropical plant species, more commonly known as a mangrove, primarily inhabiting estuaries between Hong Kong and Japan. Guandu is one of the largest mangrove habitats found at the highest latitude in the world with sound ecological significance. This unique climate and estuary nurture extremely high biodiversity attracting scientific communities to establish various long-term monitoring programs here. Students will learn systematic ecology and relevant theories of disturbance and biodiversity at Guandu Nature Park.
Industrial Technology Research Institute, ITRI
day trip
While transferring from Taipei to Nantou, students will stop by ITRI at Shintsu to learn about relevant political and scientific instruments to mitigate the impacts of climate change at a regional and national level. ITRI is a national research institute primarily sponsored by Taiwan Environmental Protection Agency. It is also the leading think tank in assisting with the development of national strategies to mitigate the impact associated with climate change and energy consumption. Students will take the newly established Taiwan High-speed Railway afterward from ITRI to Taichung Station where a shuttle will be arranged by NCNU to take students to Dasyueshan (see next destination).
Dasyueshan Forest Recreation Area
three-day overnight trip
During the students' stay in central Taiwan from week three to week six, the first stop will be the Dasyueshan Forest Recreation Area, approximately three hours from the Taichung High-speed Railway Station. Attributed to its dramatically rising elevation, peaking at 9830 feet, Dasyueshan is one of the most unique areas in Taiwan where students can walk through boreal, temperate, deciduous, and coniferous forests in one day. Dasyueshan also houses a segment of the national trail system allowing visitors to learn the diverse ecosystems at an easy pace. The educational complex located near the main entrance facilitates housing and dining services, in addition to providing visitor information. The comprehensive setting can fully support our learning and teaching needs. Students will learn more about community ecology and landscape ecology here using the natural resources provided by Dasyueshan. The shuttle will take students to NCNU afterward.
Sun Moon Lake
Day trip
The Lake is 20 miles from the NCNU campus, and is one of the most popular travel destinations in central Taiwan attracting more than 3.7 million tourists each year. As the lake is adjacent to various populated townships, it holds a critical role in sustaining the local economy, yet striving to maintain its environmental integrity. Given this unique setting, it is also a well-known study target in the field of environmental economics. This trip will introduce limnology, rural development, and self-sustaining agricultural systems fostered by integrating multidisciplinary efforts from academia, local communities, and stakeholders.
Xitou Nature Education Forest
Two-day overnight trip
Established in 1970, Xitou is a forested property of the National Taiwan University (NTU) and primarily under the management of the Department of Forestry for supporting research and education. It is approximately 55 miles away from NCNU, with a rise in elevation from 2600 to 6650 ft. Home of the oldest Ginkgo biloba (one of the twelve living fossils to science) forest stand in Taiwan, Xitou attracts more than 1.5 million visitors each year to embrace its peaceful atmosphere. Xitou has long history of facilitating various environmental training programs and research projects, is famous for the ecological education, and is well equipped with a teaching and research facility. Xitou is also a living laboratory revealing the transformation from timber cultivation to forest conservation. Students will explore recreational management and environmental monitoring practices in this trip. Before arriving Xitou, students will make one stop at Luku, an agricultural town famous for Oolong Tea plantations, to learn about the economic impact of the tea industry and how this one particular economic activity has shaped Luku to what it is today. This is a great opportunity to explore the interaction between socio-economic driving forces, watershed hydrology, and landscape ecology. Later in the afternoon, students will arrive Xitou and stay in one of the four housing facilities there.
Additional Information
Additional information can be found at CP International Center, including course outline, detailed activities, and estimated budget.
A copy of slides used in the Info Session can be downloaded here.
(Photo credits: Yi-Shou Chang, Ya Chou, and Chien-Hao Chen)
Related Content